Kelly Milne
Project Manager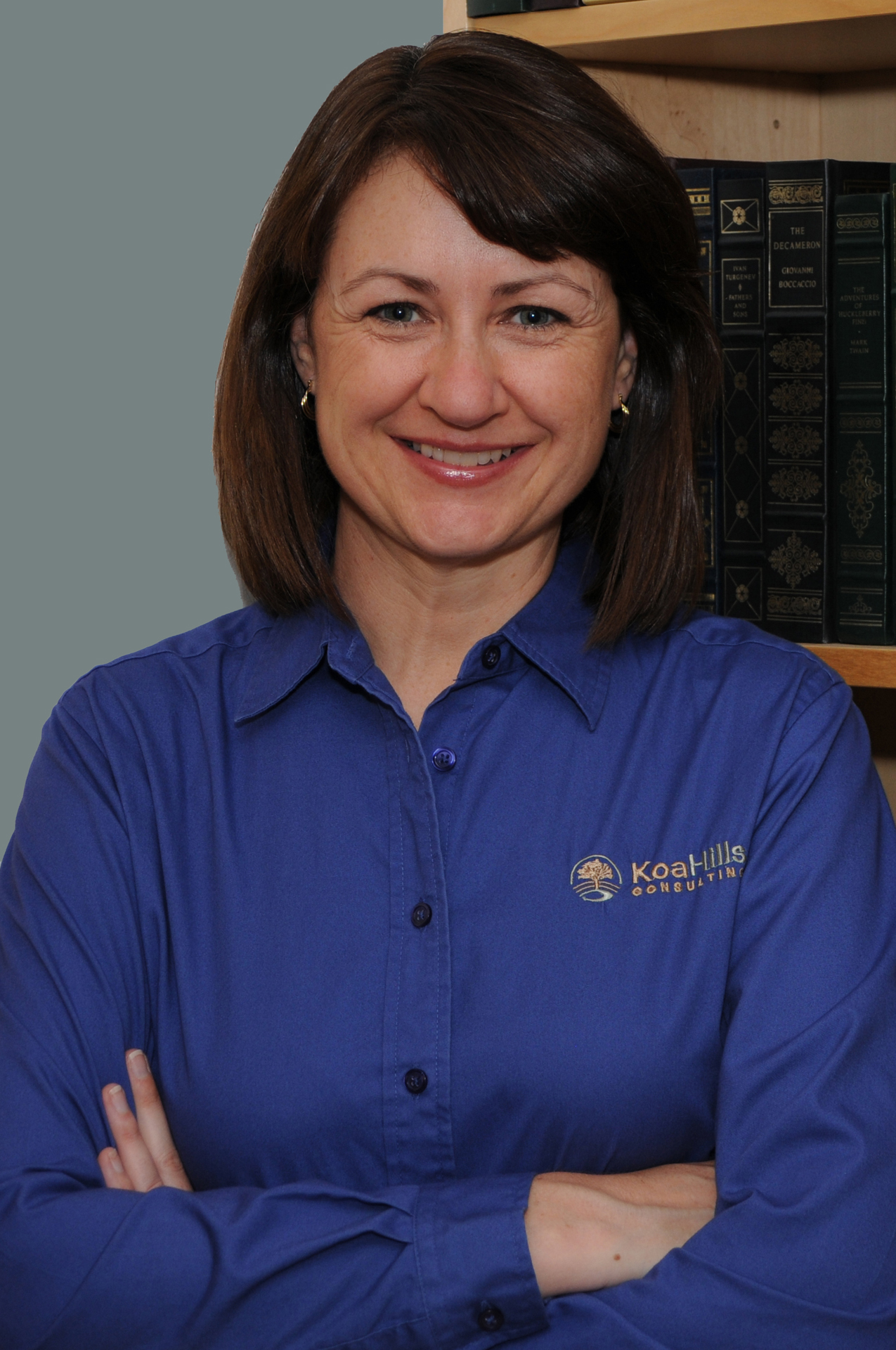 Kelly Milne is a project manager and has been working with Koa Hills Consulting since 2012.
Tell me about yourself.
I have a bachelor's degree in sociology from UCLA, an MBA from San Diego State, and a Senior Professional in Human Resources (SPHR) certification.  I have more than 20 years of experience in the public sector in academia and non-profit research, where I've worked in both large and small organizations.  Project management is my second career, all my previous experience give me a solid skill set applicable to project management: communication, resource management, budgeting, negotiation and dispute resolution, risk management, attention to detail,organizational and time management skills, and of course—general planning.
What drew you to project management?
When I was thinking about changing careers, my mentor suggested I consider project management.  I've always been someone who gets things done, and doesn't get intimidated by projects that might overwhelm other people by their sheer size or complexity.  My mentor had seen this in action when I was called on to pull together a golf tournament for the institute we worked for.  It was the major fundraising event for the organization, but four months out, the fundraising staff had left, and all that had been arranged was the date and location.  I don't play golf or know anything about it, but I took the lead in organizing the management team, and together we not only pulled the tournament off, we raised significantly more than our fundraising goal.  When I thought about project management, it seemed like a great way to put my skills and talent to work.
What are you working on now?
I'm working with a large non-profit research institute, helping them make a significant ERP system upgrade, including changing the underlying platform and technology.  They are a technically savvy group, and have done a number of customizations over the years that are becoming increasingly challenging to manage.  In addition, they have more than 25 systems that interface with the ERP, so we need to make sure they don't lose any functionality.  A big part of the project is determining which customizations can be handled in the base software, deciding where processes need to be changed, teaching the internal resources how to leverage the tools provided in the new ERP, and making sure all the interfaces with the auxiliary systems continue to function properly.
How is the project going?
Everything has been going great.  Their team is really great and technically savvy.  Having buy-in from the top all the way down, and having an engaged team is tremendously helpful.  If they didn't have this commitment, and everyone was focused on their regular job, the project would flounder and it wouldn't be completed on time.  A client's knowledge of that, and having significant project management in place to keep track of things and make sure things are moving is key.  Whether that's an internal resource or someone brought in from the outside to manage the project, it's crucial to have someone assigned to make that happen.
One of the interesting things about this project is that I'm working with resources internal to the client, the software vendor, Koa Hills Consulting, and third-parties.  So it's really four flavors of resources on this project, and it's a strength that Koa Hills brings—that we have all those resources we can pull together and make it work.
So what do you like to do when you're not managing projects?
When I'm not working, I'm co-managing my family.  I also love to read and watch movies.  I enjoy hiking, camping, baking and Zumba.  And I blog about cooking, health, personal financial planning, and other things I categorize under the label "living friendly."